One big family for the start of the 2010 Leatherback Program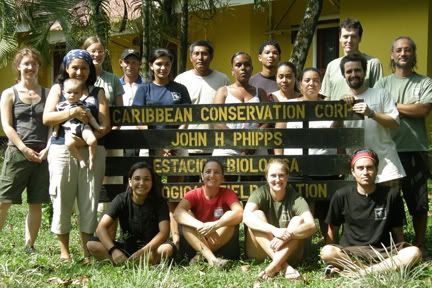 At the beginning of March, CCC staff and the new research assistants gathered at the Tortuguero Research Station for the start of a new leatherback nesting season.
We welcome the new CCC family members and are happy to see familiar faces back at the station this year. The members of the Tortuguero family are: Xavier Debade (Station Manager – France), Clare Atkinson (Field Coordinator – England), Dagnia Nolasco (Education and Outreach Coordinator – Peru), Perla Servian (Visitor Center Coordinator – Paraguay), Ivan Ramos (Track Surveyor, Boat Captain and Maintenance – Costa Rica), Juanita Fernández (Cook – Nicaragua), and Isabel Beckford & Jackeline Brandt (Cleaning and Laundry – Costa Rica).
This year we have eight Research Assistants from eight different countries; these unconditional turtle lovers are leaving behind their home comforts to give us their time and energy for three months: Alex (Canada), Arturo (USA), Ernesto (Mexico), Luisa (Venezuela), Marlene (Germany), Mónica (Colombia), Santiago (Spain), and Tim (England). We also have a Volunteer Assistant, Indira Torrez, who is from the community of Tortuguero; she participated in our Junior Research Assistant Program in 2008 and is now helping out with monitoring and environmental education activities. And we can't forget our youngest turtler, 6-month-old Yana (French/Peruvian)!
After two weeks of intensive training, the Research Assistants and the field coordinator have been conducting nightly patrols and track surveys of the entire beach every three days.
Here are the turtle encounters during 203 hours of night patrols in March:
15 leatherback turtles – 6 new and 9 with old tags
7 green turtles – 6 new and 1 with old tags
Jaguar kills:
Two leatherbacks in two weeks – one originally tagged in Pacuare in 2005
6 green turtles – one tagged in Tortuguero in 2006
One of our research assistants (Ernesto) was lucky enough to see a jaguar while he was doing a track survey one morning; it was in the vegetation close to a freshly killed green turtle.
Our first Eco-volunteers have arrived, and are settling into the routine of early morning track surveys and late night patrols; and the turtles are starting to nest more frequently now too. We'll keep you updated on how things progress during the season, and will be sure to share any exciting tales from the beach.
Dagnia and Clare
CCC Research Station